Adventure Ingenue in Eastern Europe
Traveling as part of the World Chicago delegation through the state department professional fellow program. Visiting Austria, Hungary, Croatia and Macedonia.
Guttenmorgen, Frankfort
Frankfurt am Main, Hessen • Germany
Flying into our first destination, Frankfort en route to Vienna
Catapult Chicago, the non-profit tech hub that I run, has participated in the World Chicago program for the last two years. World Chicago is a state department funded program that places international fellows from all over the globe in Chicago to learn and expand their horizons in their prospective industries. I have hosted two fellows from Eastern Europe, one from Bosnia and the other from Macedonia, where the tech ecosystem is exploding. This year I was honored to have been chosen to be a part of the reciprocal delegation.

What's more, I found out another traveler was a peer that I've known for a few years, Trisha Degg with ITA. Trisha and I decided to capitalize on the opportunity and fly in a bit early to travel together before meeting the rest of the group. We decided to visit Vienna and Budapest before arriving in Zagreb.

I haven't quite wrapped my head around what an amazing opportunity this is. Taking this journey we become professional state department fellows for life. We are featured speakers at the Voogle conference in Varazdin, and LEAP Summit in Zagreb. We have meetings scheduled with the embassies and chambers of commerce. It's overwhelming and ego-boosting and honestly very difficult not to have full blown imposter syndrome. It will be an incredible trip and and a once in a lifetime adventure.

Traveling abroad is a passion of mine, and it's nice to be on a new adventure, but it's also odd for me to be traveling abroad for professional purposes.

I'm also realizing the more roots you put down, the harder it is to leave. Since my last international trip, I've gotten married and bought a house (which is currently being renovated). As exciting as this journey is, I'd be lying if I said it was easy to leave my hubs and our project for 15 days. I'll miss my usual travel partner while I'm away.

Regardless it will be one for the books and I'm sure we'll have plenty of stories to share over the next two weeks!
Willkommen to Vienna
Sonnleiten, Niederösterreich • Austria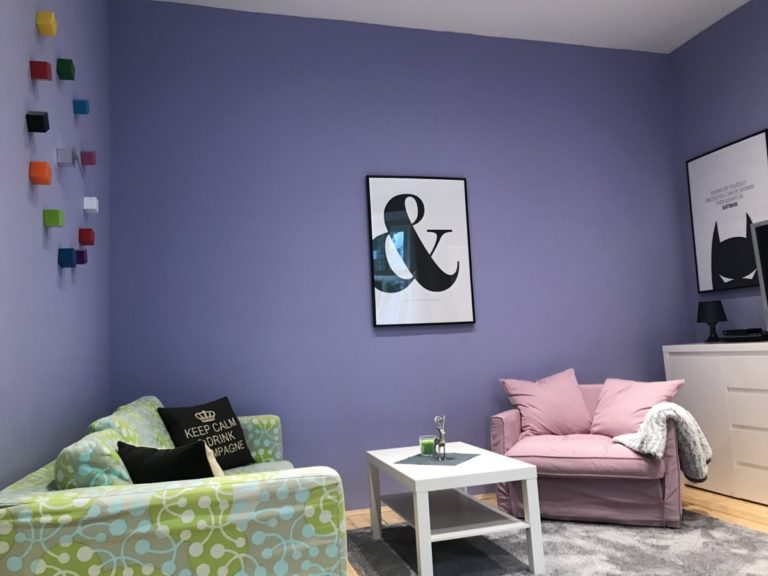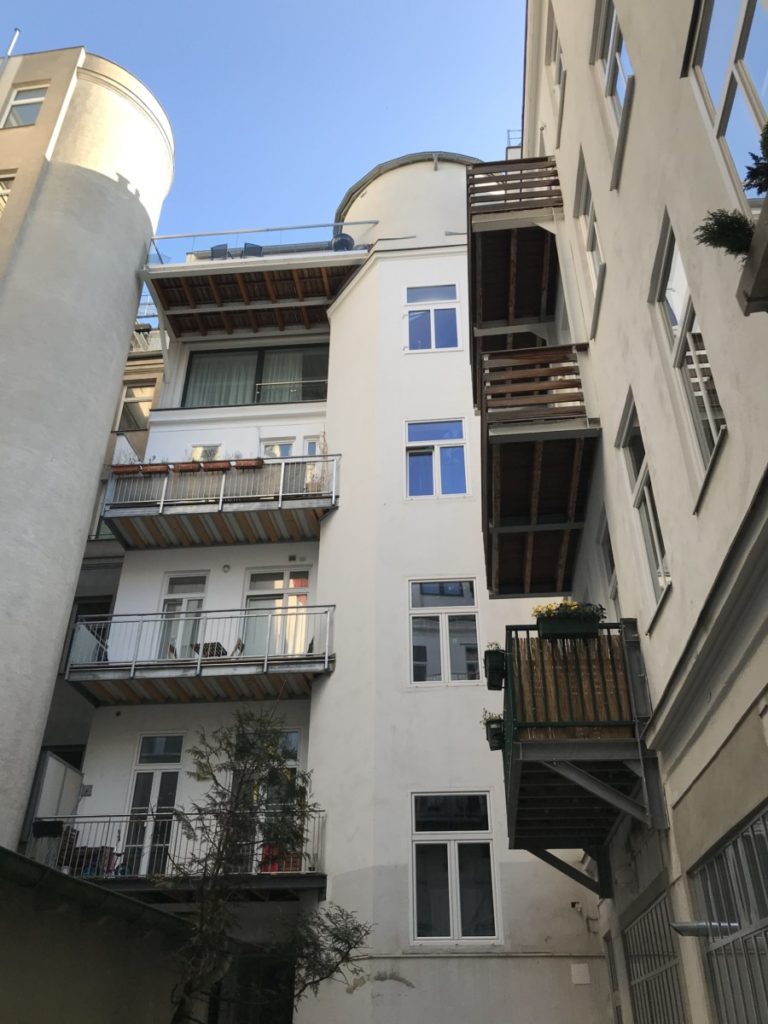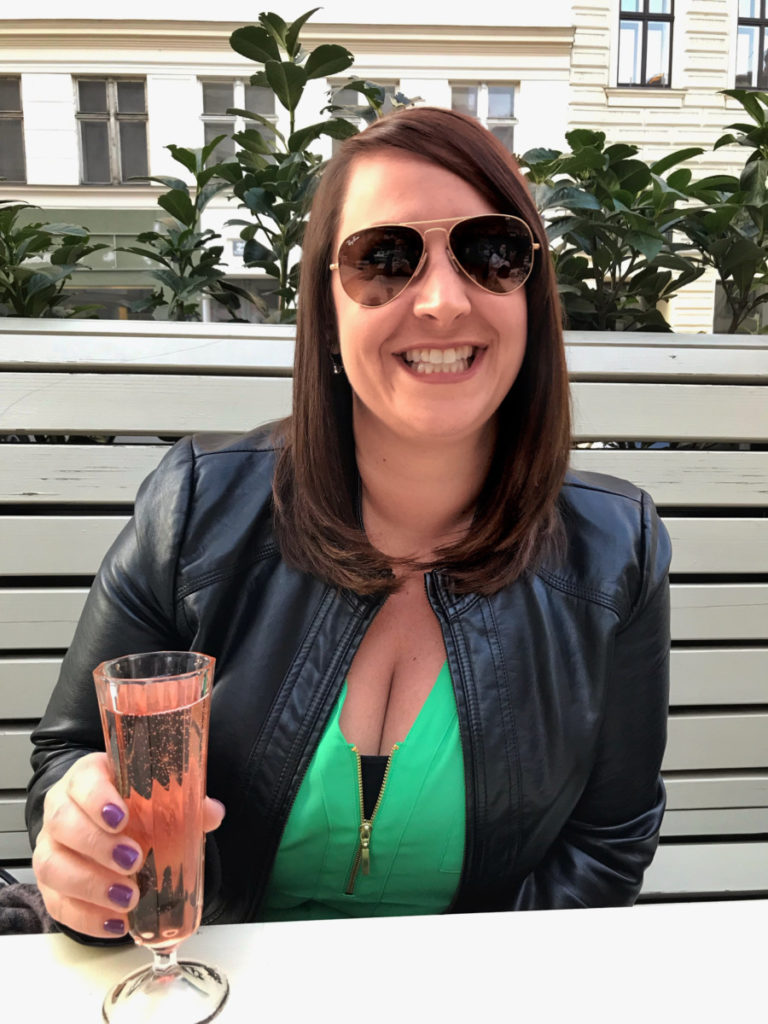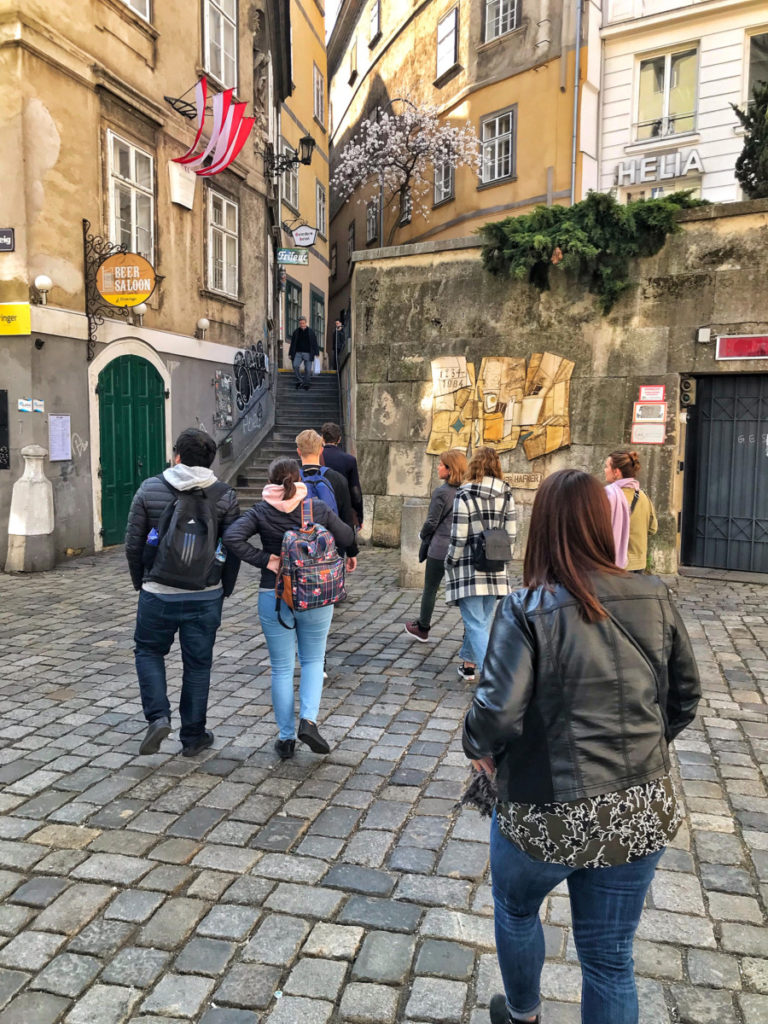 Trisha and I landed in Vienna at 10 am. We couldn't check in to our Airbnb until 2 pm, so we had to bum around with rather large luggage in tow. After learning my lesson in dragging unnecessarily large luggage around from my South America days, I normally only travel with a carryon. This time around we had to pack not only for fun but also for work. Trisha and I are both speaking at a few large events, and have some important meetings. We both brought a few blazers and the shoes to match… Needless to say, our luggage left something to be desired when maneuvering with ease.
Thanks to our unwieldly rolling friends we couldn't go too far before we made our way to our Airbnb. We were also hungry after travelling for 12 hours, so we walked until we found outdoor seating at a little Italian café (it was the first thing we could find with room for us and our baggage). It was an odd "breakfast," but we got spaghetti carbonara and a chicken/mushroom risotto and our very first sips of European coffee. It may have been an odd choice, but man it tasted great after not having real food for a good stretch. As Trisha is discovering, traveling with a Celiac is not always easy. I couldn't eat anything on the plane, but I was prepared for that and had snacks. Luckily Austria has a nice system of delineating what has gluten on menus, so it hasn't been difficult to find some really delicious items. That first bite of creamy, salty, hot risotto was heaven. And I don't think I need to go into much detail on the nectar that is European espresso.
After satiating our hunger, we lugged ourselves over to another patio (this time Australian - they do seem to love international cuisine here) and ordered a beer and a cider, respectively. A big shout out to Europe being 10 degrees warmer than forecasted, as it felt fantastic to have sun beaming down on us after the long Chicago winter. That being said I did not pack appropriately and am slightly irritated to have mostly long sleeves and layers when spring has clearly sprung over here. It was a great way to kill the four hours we needed to before finally checking in to our home-away-from-home.
Our Airbnb was on Neustiftgasse street. I still have absolutely no idea how to pronounce that. German is really hard, especially if you've only ever studied the love languages. I kept thinking of that great Youtube video where people name things (like butterfly, pen, etc) in their own languages and German is so abrupt and distressing. Look it up if you don't know what I'm talking about, you won't be disappointed. Our little flat was super clean and cozy, and our neighborhood reminded us a bit of Wicker Park or Bucktown – hip and upcoming. We showered and forced ourselves to go out for an early glass of wine in the plaza and dinner down the street at a cute Vietnamese restaurant. It was comforting and delicious and with full bellies we stumbled home and fell into bed. After being up for more than 30 hours it was incredible to finally be able to sleep.
And sleep we did! We were out for a solid 11 hours! Refreshed and rejuvenated, we ventured out to meet the group for our guided walking tour. This was my first time booking an experience through Airbnb and it was great! We only had 8 people in our group, from all over the world, so it was really intimate and fun. Our guide Hannes led us through the city center where we discovered one of Mozart's apartments, the balcony where Hitler addressed Austria and informed them they were becoming part of Nazi Germany, the Hofburg Palace where the Habsburgs ruled and lots of through ways – little passages that serve as shortcuts through the maze of apartments and buildings. He also filled our ears with legends and tales about local heroes and villains. It was a delightful way to become more familiar with the city and learn about the history of Vienna.
Afterwards Trisha and I meandered for quite a while trying to find a lunch spot. We finally ended at the Greek Tavern, a place of local legend that's been standing for centuries. There's a room that has the signatures of all the great composers, some dignitaries and many celebrities on the wall. Trisha finally got her schnitzel and I had a sumptuous thin steak with onions and fried potatoes. We slowly walked back to our flat and may have stopped for a glass of rose on the way.
We ate our leftover Vietnamese food before cleaning up a bit and heading out to Loos American Bar – a recommendation from a family friend. American Bar was completed in 1908 and designed by Adolf Loos. Only 290 square feet this architectural gem heralded modernism and has hosted the likes of Sigmund Freud and Jude Law. Other than the cigarette smoke that fills most restaurants and bars inside and out here in Vienna it is indeed a gem! The cocktails were out of this world and the service impeccable. Victor, our bartender, entertained us with stories and free tastes of the other cocktails he was creating throughout the evening. We ended up sitting next to a young man that was also from Chicago but currently living in London. It was a great end to our very short stay in Vienna.
As I type we're on the train headed to Budapest! Excited to explore and learn all we can about Hungary's capital city. Auf wiedersehen for now, Austria.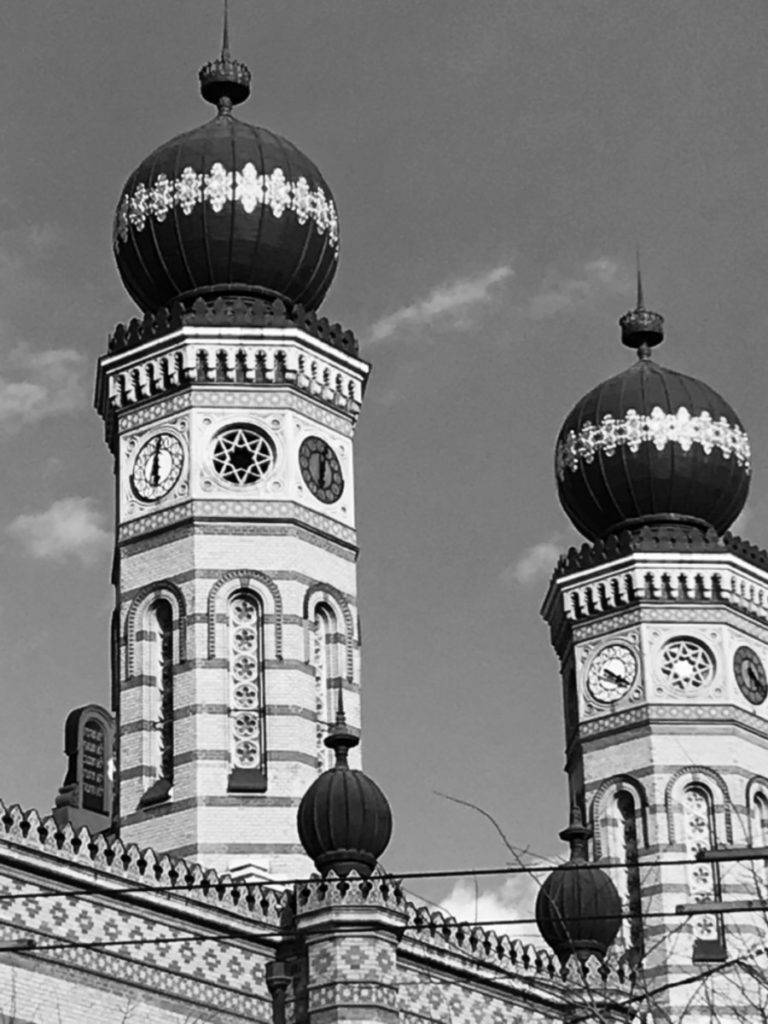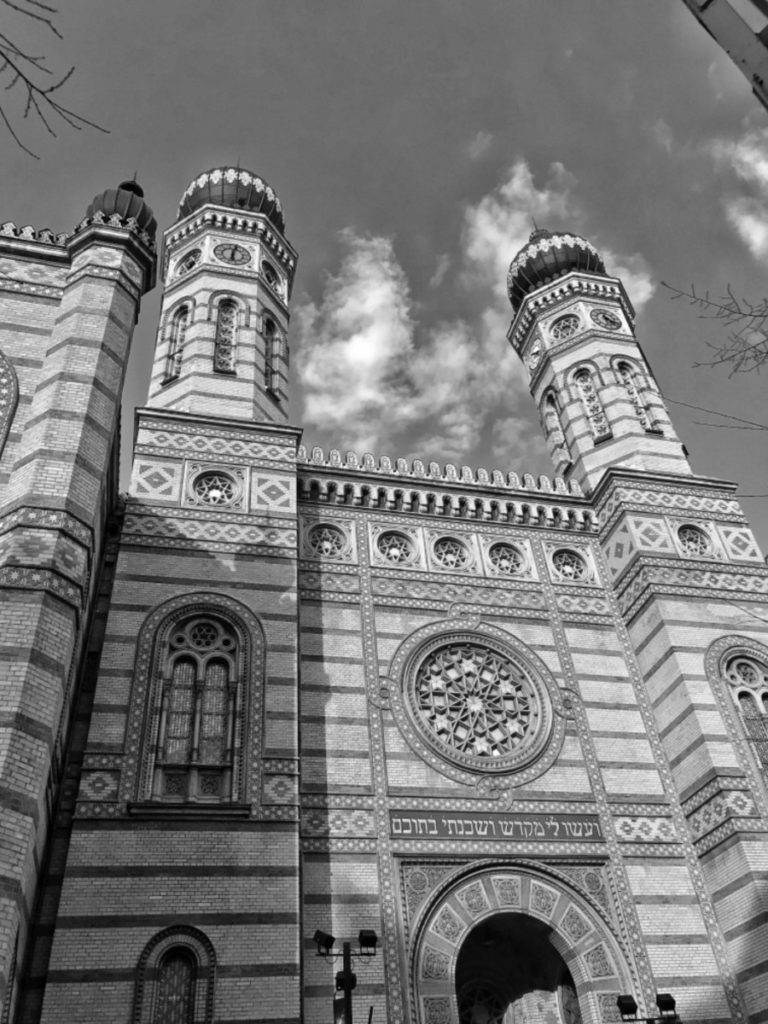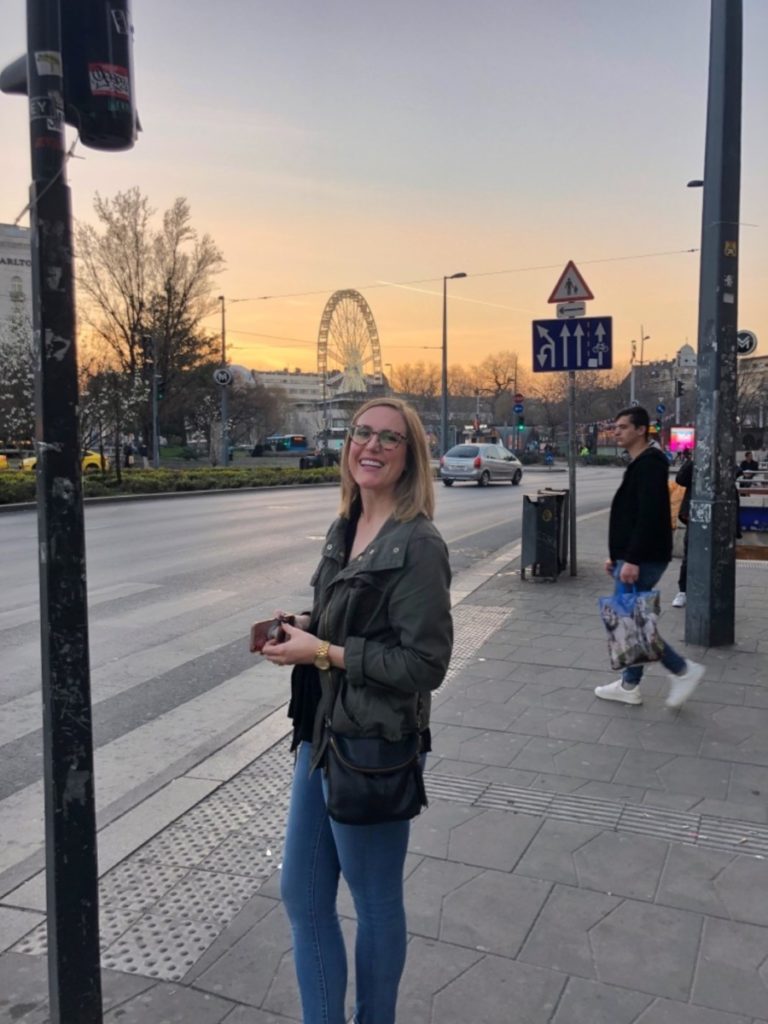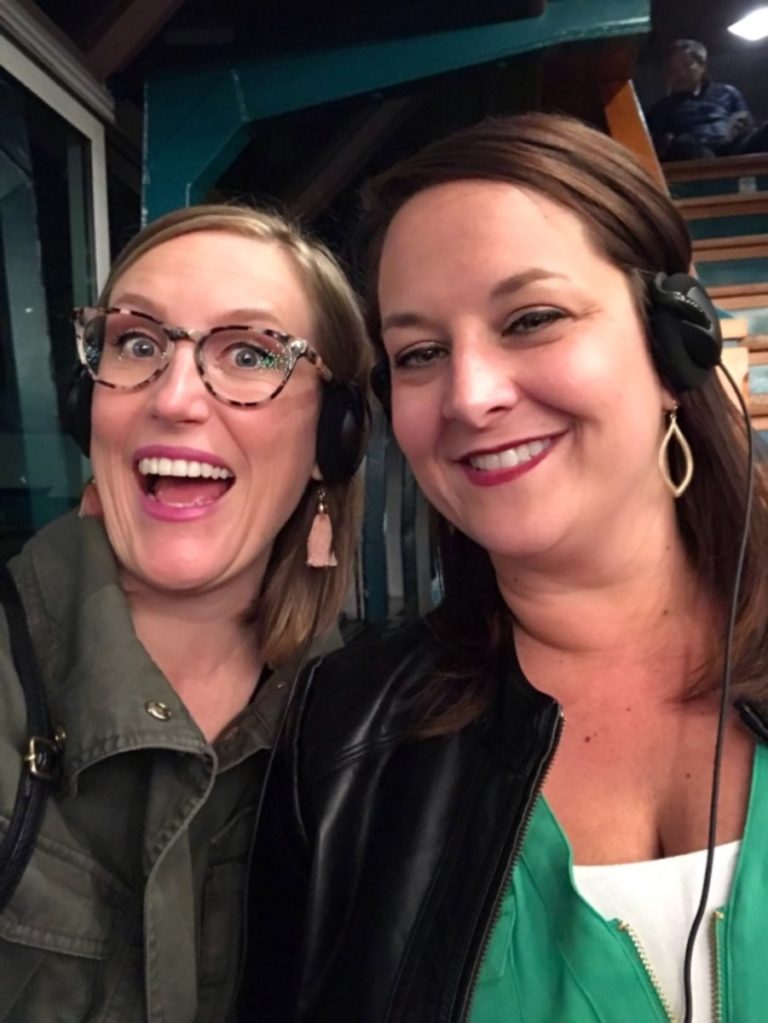 On to our second destination, Budapest.
Upon arriving in Budapest Trisha and I were promptly shuttled into a cab by a very persistent Hungarian man who totally hosed us for the fare as we paid in dollars. Sigh. Always do your research for conversion rates before getting into a cab, folks. The driver did give us a good tip on booking a river cruise that night, so there's that. Our lack of preparedness aside, Budapest immediately seemed like a great city to explore. It was warm out, and the streets were full of people in sandals and shorts. Once again, Europe, you're killing me with the temps.
We settled in to our flat, which turned out to be a nice spot in a very secured building and in the best location for exploring. After dropping our bags, we set out to get familiar with our surroundings. We found a great little street fair happening across from our building with lots of local artists. Trisha and I both purchased a few items to take home. We returned to the flat to change into a bit nicer clothes and set off to find some dinner and get down to the dock for our cruise.
We ended up finding a restaurant that did a variety of meats cooked on hot stones. Seemed filling and gluten free so we sat down. They brought chalices of red wine the size of our head to start. After sampling we understood why they served so much – you'd need to drink a lot of it before it began to taste good… Trisha and I both ordered Argentine steaks and frites. Our meals came out on the very hot stone, smoking but obviously quite raw. Thank god the server asked us if we knew how to cook it and demonstrated slicing it up and roasting over the stone. As Trisha hilariously pointed out, "we would be eating raw meat if we didn't get the tutorial." This was the funniest moment of our time in Budapest as it was totally true. We both assumed the hot stone was to cook the meat as a whole, not little chunks as your meal progressed. A good laugh for sure. It was actually really delicious and the wine did indeed start to taste better and better as the meal went on.
Afterwards we meandered through the city center before making our way to the docks. The cruise was operated by the Danube Legend tour company and it was to last about an hour and showcase all of Budapest's architectural wonders illuminated along the river. It was magnificent and I highly recommend anyone coming to Budapest to take the tour. It was a great way to get oriented to the city, but it was just absolutely stunning to see the spectacular buildings shimmering along the shores. The Parliament building in particular was just mind boggling to see. It took 17 years to complete and is modeled on British Parliament but with eastern influences added to make it one of the most beautiful buildings I've ever seen. Upon the completion of our one-hour tour (said in the sing-song voice of Gilligan) we made our way back to the flat and poured ourselves in bed.
All was well until, at 4 am, some type of bird decided to sing us the song of his people. It was literally the loudest bird and it was giving us the full performance. Even my ear plugs didn't really drone him out. Since it was now Monday, the working residents of Budapest all got up early to start their week. Which also included vacuuming the hallways of our apartment complex… With a rough night of sleep behind us we got up and out the door for a full day of exploring the city.
We headed to the castle first as the one thing I really wanted to do was to ride the funicular up the hill to the castle. Upon making it to the entrance we sadly discovered it was closed that day for maintenance. Womp womp. I knew there was quite a bit of history and some views I wanted to see, so I made the trek up the mountain on foot. Trisha decided she'd be happier down below and found some spiced wine and a spot of sun to wait for me. I got up pretty quickly and was treated to some awesome views of the city stretching below. With the river separating Buda from Pest, and all of the bridges connecting the two sides it made for a pretty great scene. I then continued past the castle and found the Matyas Templom, or Mathias Church. The church was used as a coronation church by Hungarian kings for centuries, also a mosque for over 150 years by the Ottoman Turks, once owned by Franciscans, Jesuits, and is now a thriving Catholic church. Lots of history! I didn't go in, but instead continued to Halaszbastya, or Fisherman's Bastion. The Fisherman's Bastion was built between 1895 and 1902 as part of the series of developments that were to celebrate the 1000th birthday of the Hungarian state. It's one of the most popular destinations to take photos in Budapest as you get unparalleled views in all directions and it has seven turrets in honor of the seven Hungarian chieftains. You can climb each of the turrets and gaze out the arched windows for slightly different scenes of the city below. I was lucky as there weren't a lot of people and it was incredibly peaceful, sitting on the cold stone walls and watching the Danube snake through the city far below.
After getting my fill of the view I wandered back down to find Trisha enjoying herself immensely, soaking up the vitamin D and feeling quite rested. We took off in search of lunch. We walked and walked and walked to the next bridge (Elisabeth bridge) to get back to Pest and by this time were both cold (the weather had really turned on us), hungry and tired. Always a great combo. We stumbled into a little wine bar where Trisha got her first taste of goulash and I ordered the meat and cheese plate. I wish I had taken a photo of this cheese plate as it was an odd array of strange deli meats and essentially kraft singles. Not great, but I nibbled on the turkey and a few slices of pepperoni and gazed longingly at Trisha's steaming bowl of deliciousness.
From there we found ourselves on a delightful little shopping street full of traditional Hungarian souvenirs. We both bought a few more items to take home, including some beautiful little line sketches of Budapest that are really special. We snagged a seat on the patio of a little café looking over yet another bridge (the Liberty bridge) and the Great Market Hall. Trisha settled in while I popped over to quickly walk through the stalls of fruit, vegetables and rows and rows of dried peppers waiting to become paprika. After a glass of wine or two we made it back to the flat just as the weather had really turned blatantly cold to change and find some real food for me after a string of unsuccessful meals. We found a cute little diner that had pork chops with ratatouille and it was hot, flavorful and comforting. The perfect meal after a very long day.
We ended our last day by finding one of Budapest's many ruin bars. Ruin bars can be found in the old Jewish quarter, which for decades was left with many dilapidated and abandoned buildings after the deportation of 10,000 Jews during WWII. In the early 2000s a group of college grads decided to create pop up bars for the bohemian youth that would move around in the different abandoned buildings. The trend caught on and now there's a few that are no longer transient but have established facilities. We went to Szimpla, the original ruin bar and most popular. It is massive, sprawling what feels like over a city block, with lots of different rooms all with different themes. It was so much fun exploring all the nooks and seeing where the next door would lead us. Trisha and I stayed for quite a while enjoying the hip atmosphere and people watching. The best people watching was when a group of American men all arrived with their backpacks, hip phones and fleece jackets. There were about 5 of them and they all looked exactly alike. Quite fun watching them navigate around together.
Budapest was an absolute delight and I'm sorry we didn't have longer to explore and visit more of the historical sights. The people are all very kind and there is so much to learn with the abundance of history that oozes around every street corner and down every passage. I sincerely hope to return one day.
This entry heralds the end of vacation and we're on the bus to Zagreb as I type. Once there, the work portion kicks off with the rest of the delegation arriving tomorrow. It will be full of fun as well but we've certainly enjoyed traveling together with no agenda but our own.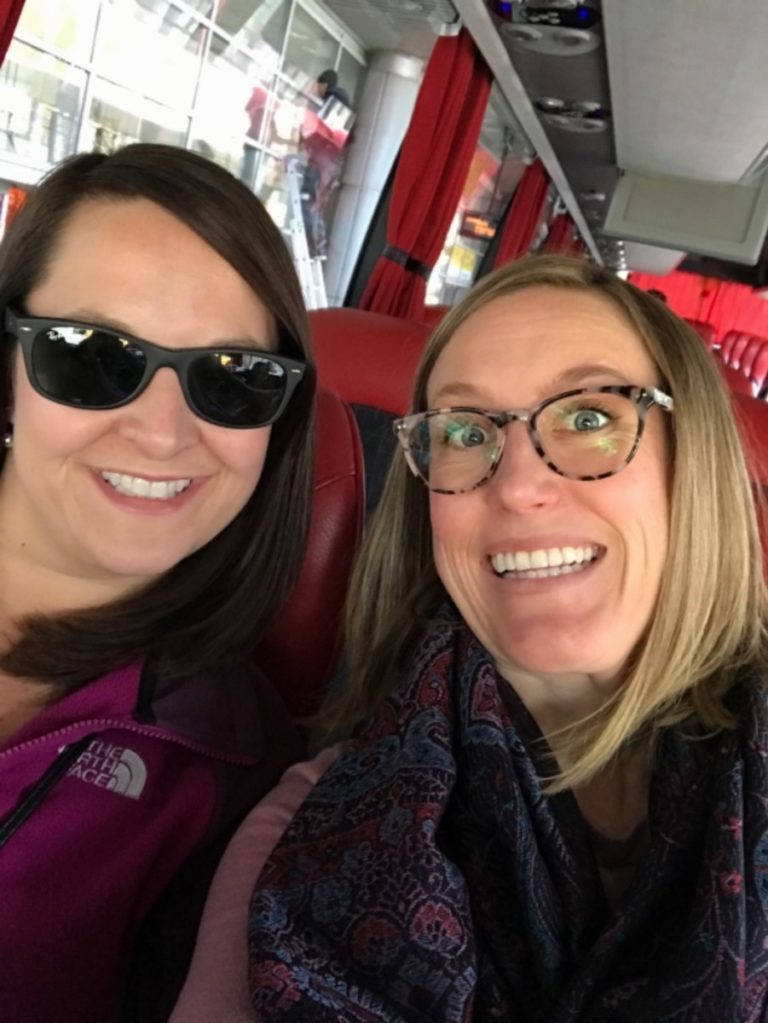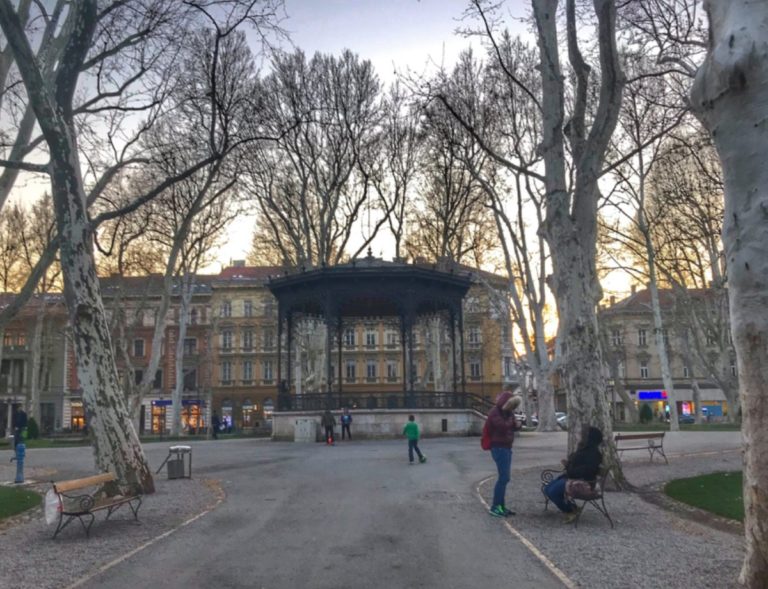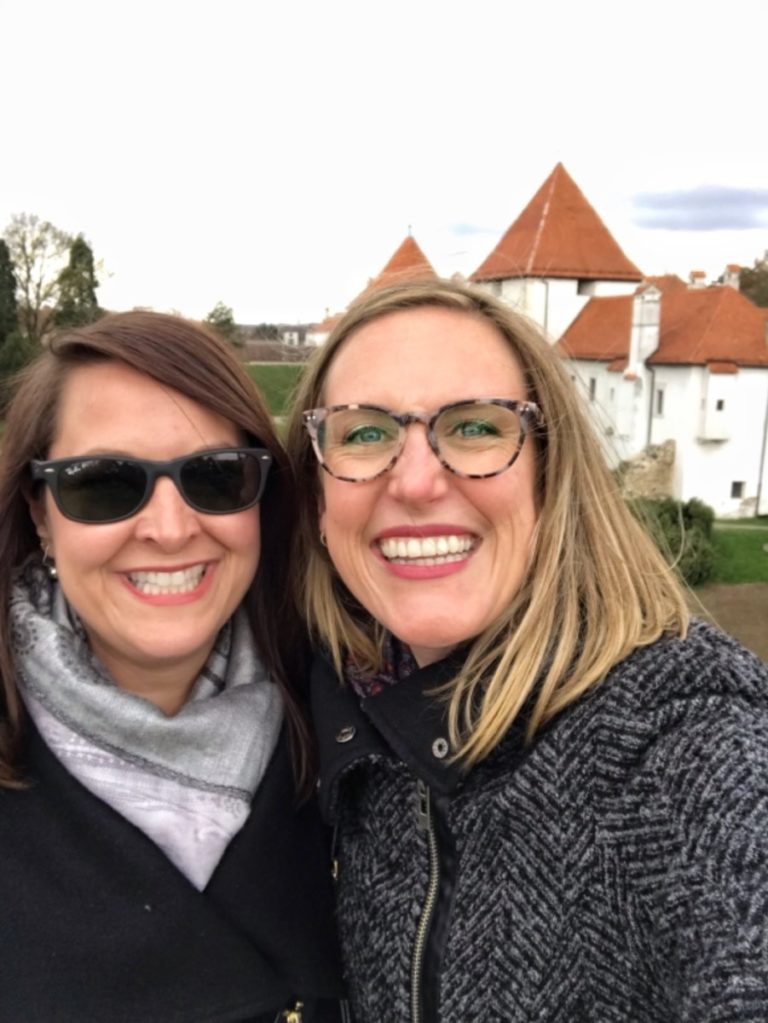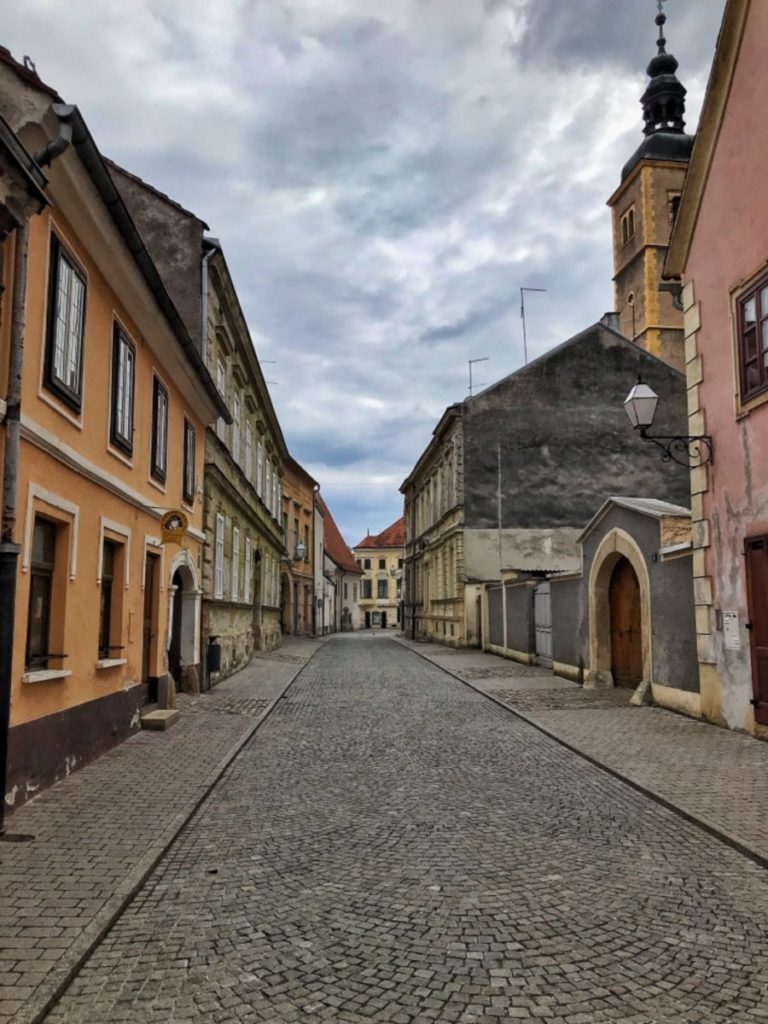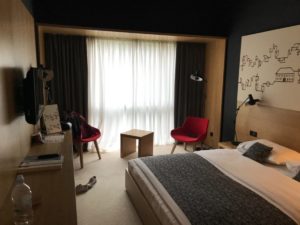 After a five hour bus ride (longer than anticipated due to 40 minutes sitting at the border), Trisha and I made it to Zagreb, Croatia. We found our flat, which was by far the largest and nicest we had stayed in, and promptly left to find food.
Those five hours were without much sustenance for either of us and we were both starving. I was tired of eating heavy food and found a well-reviewed Italian restaurant off the main square called Boban. It turned out to be a wonderful meal in a beautiful setting. To get to the restaurant we walked through Zagreb's main square that has a picturesque gazebo situated in the middle of a grove of ancient sycamore trees. We found the restaurant and ordered local Croatian pinot gris. We shared a meat and cheese plate (this time with real cheese instead of kraft singles), and I got simple grilled chicken with fresh pesto and grilled veggies. It was DELICIOUS. It was so nice to have a really tasty meal that also was light and fresh. Trisha had these amazing homemade raviolis with truffle, which were also delectable. Two glasses of wine each, an appetizer and a full entre and the whole thing with tip cost only $36 each. Not too shabby. We went back to the flat and made it an early bedtime as we had to be up very early.
The next day we were to meet the World Chicago team, Peggy and Angela, at the Zagreb airport at 8:40 am. From there we'd be transported to the smaller town of Varaždin where we'd meet the rest of the group and where we'll also be giving our talks at Voogle tomorrow for 200+ people. We got to the airport and found the ladies. We were waiting on one more, Roland, a longtime partner and home stay host for the program. While we waited we had a wonderful latte and even a gluten free brownie from Café Nero. It was a great start to the day.
Once Roland arrived, we packed into a van and drove the hour to Varaždin. Varaždin was once the capital of Croatia, until a devastating fire forced the relocation of the capital to Zagreb. In fact, it's one of Europe's most intact baroque centers (after Prague). Varaždin feels like the best kept secret in Croatia. It doesn't get a lot of tourists outside of a few summer festivals so the streets were basically empty as we wandered. It's easy to imagine you've been transported back in time as the pastel, dreamy buildings look as if they've been untouched for centuries. Old town looks like a story book come to life complete with the white washed Stari Grad castle and cobblestone streets.
Our little group got to explore Stari Grad and had it essentially to ourselves. We poked our heads into every nook and went up every stair, each door leading to yet another room full of domed ceilings painted in pastel pinks, yellows and blues reminiscent of meringue. After the castle we found a little restaurant where I tried a shopska salad for the first time. A delectable blend of tomatoes, cucumbers, red and green peppers with the saltiest, most mouthwatering feta ever. I paired this with a simple grilled chicken breast and it was exactly what I needed.
After lunch we returned to our hotel where I sit in my very own room, overlooking the park where cherry blossoms dot the landscape. It's a gorgeous hotel and it is quite nice to have my own space to spread out and decompress from the last week of pretty intense and non-stop travel. I have a few hours to rest before we meet up with the group again for our "secret dinner," where our Croatian hosts take us to an undisclosed location and a personal walking tour of the city. The theme is witchcraft, so should be interesting and entertaining!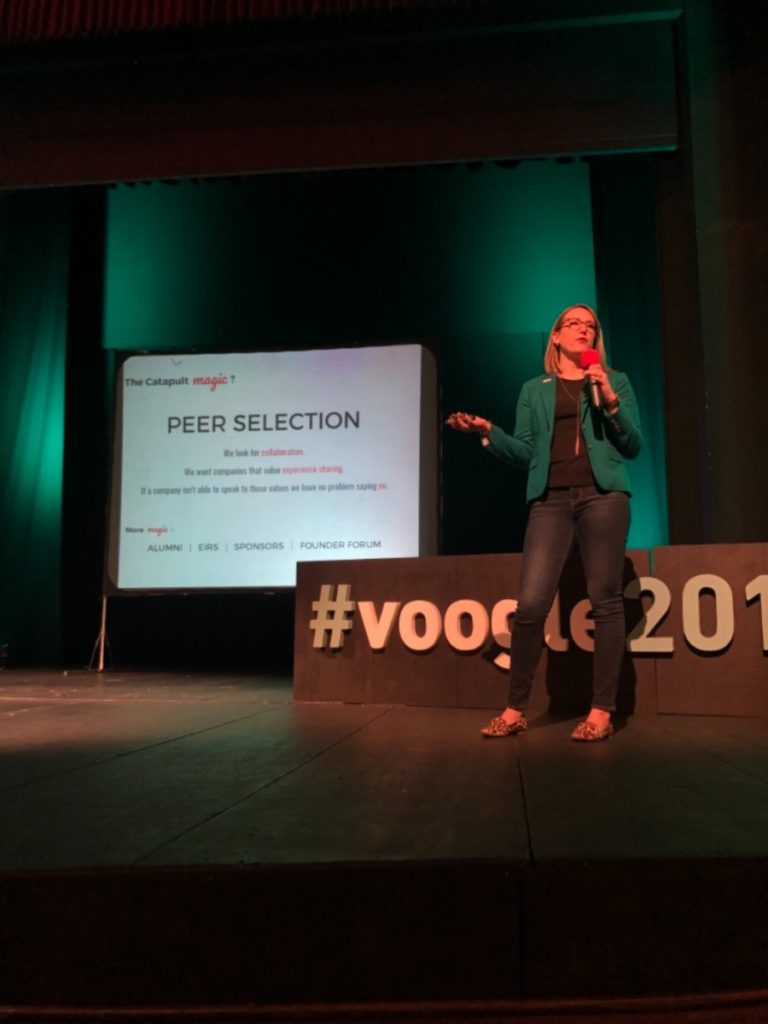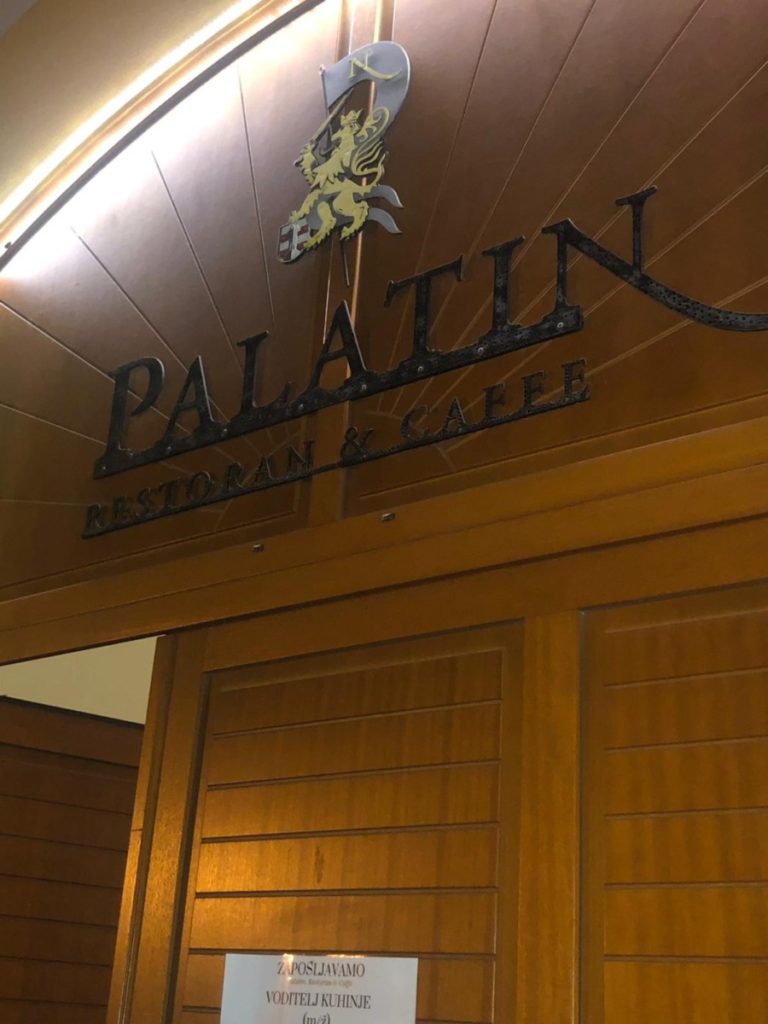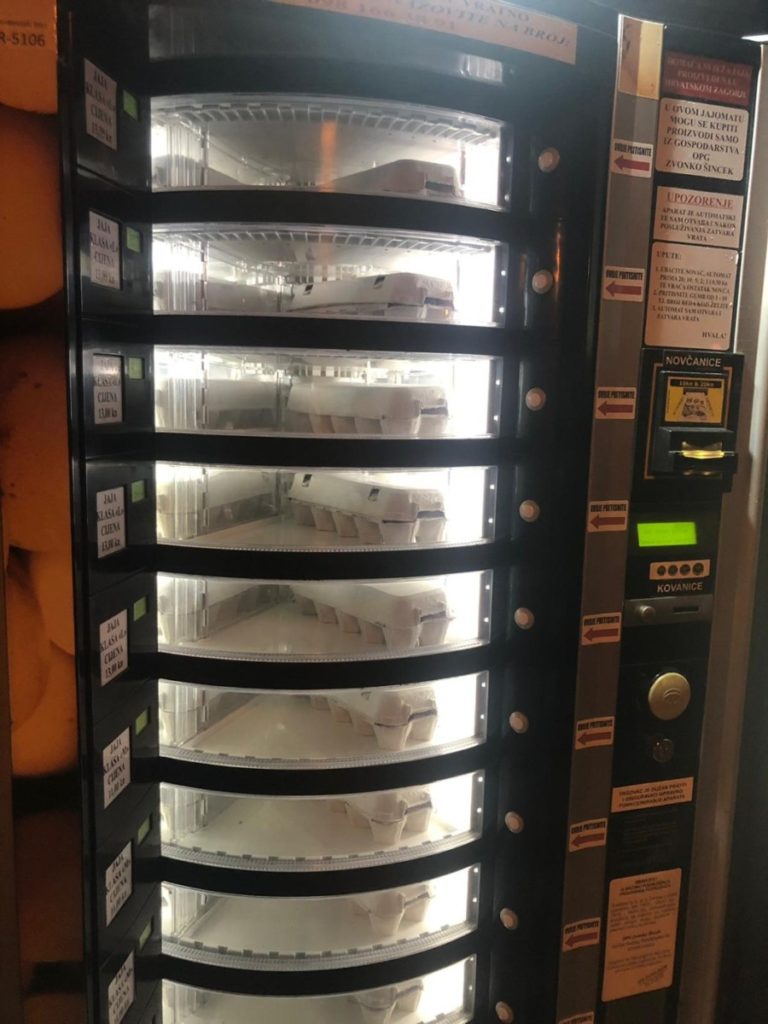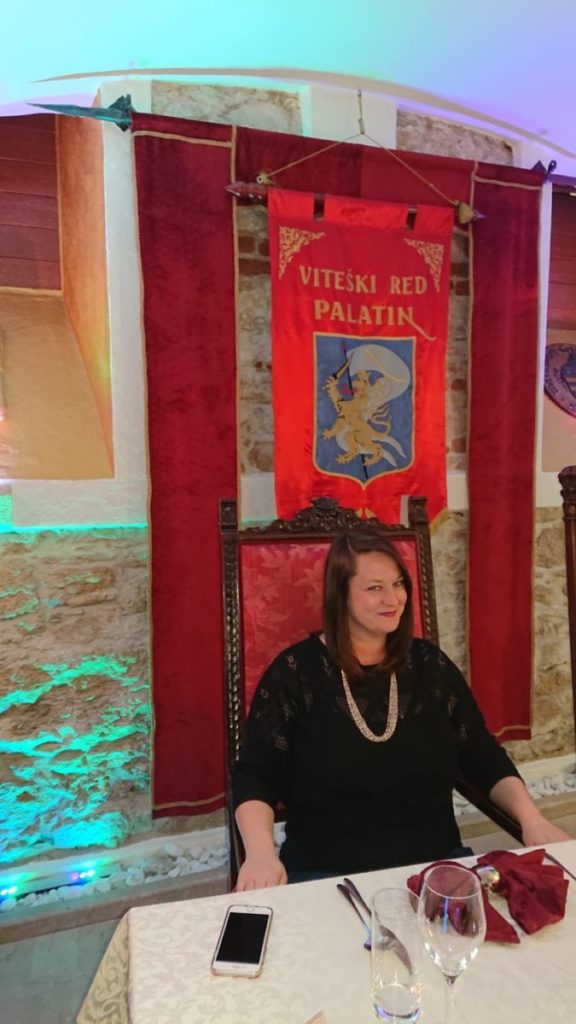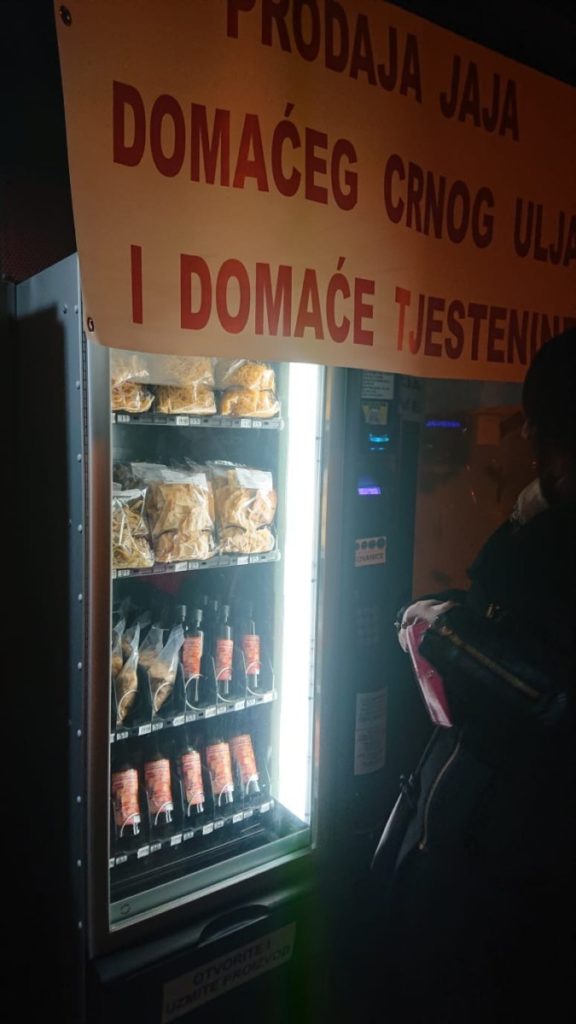 Voogle Conference - Catalyze Croatia
After a delicious afternoon of doing nothing, the group met up in the lobby to kick off the secret dinner, organized by our hosts as a welcome event for the delegation. A group of women dressed up as witches approached and led us back towards Stari Gard. Varaždin at night is incredibly quiet and peaceful. It was a chilly evening, and with the witches, felt a little like fall. The witches led us around the castle and filled our ears with stories of the witch hunts that befell the world back in the 12th and 13th century. It was interesting to learn that an estimated 2 million women worldwide were burned and tortured during this dark time in history. The performance was a very cool thing but ended up lasting over an hour where we were out in the cold. Many of our group had just arrived from their international flights, and I have no idea how they were able to tough it out as dinner didn't even begin until 8 pm.
Everyone was very cold and very hungry by the time they finally led us into a restaurant, Cava. Cava has renovated the old city jail where the witches were once tortured and sentenced, so it was a fitting end to the witch hunt we just participated in. The dinner was phenomenal, with several courses (all made with GF options for me) including pumpkin soup, veal and duck! My favorite dish was a local salad with pickled cabbage and a vinaigrette dressing – simple but so fresh and SO tasty. Most of the recent arrivals cut out soon after the first few dishes were served as they were falling asleep in their soup! It was a very long, but very nice welcome to the Voogle conference and a great way for everyone to get to know each other.
We had an early start the next morning, with a call time of 8:45 am to meet in the lobby and walk over to the theater where the conference was being held. We all scarfed down some breakfast at the hotel and made our way through the park to the theater.
Voogle Conference 2019 gathered our international group of fellows, local entrepreneurs, researchers and students around the topics of business ideation and acceleration, global market building, smart growth and intersectoral collaboration, and women entrepreneurship. You can read more about the event here: www.voogleconference.com

The day was made up of talks from the Chicago delegation, along with a few talks from folks from around Europe. The Americans all kept to their time limit of 15 minutes, but the Europeans waxed poetic for at times up to 40! This made for another very long day (as I type we're in a van on our way to Zagreb and we may die, just a note). Voogle was a great way to ease into our talks as it was a small audience of around 200 people. It was also a somewhat intimate venue, so it wasn't as intimidating as I had anticipated. My talk went really well, and even though I had no questions after, many people came up afterwards to chat about ideas and The Catapult model. Not so GF, was the buffet served at the conference, so during the pitch competition I ran back to the hotel and inhaled a chicken dish with some buckwheat pancakes. It was absolutely delicious and I was distressed I didn't have the time to properly enjoy as I had to rush back to the venue. Upon arriving breathless and anxious that I wasn't going to make it back in time, I found that the speed networking portion which they had told us was very important, was cancelled. Sigh. I could have enjoyed those pancakes after all… Trisha and I both had some notes as past event professionals of what could have gone better (timing, having water for the speakers, and soap and toilet paper in the bathrooms for starters), but overall it was a nice event and we met some really interesting people.
After the closing reception, a small group of the Chicagoans (Trisha, me, Heather, Jonathan and Debra) trekked to a local restaurant for a late dinner. Heather had found something on Google that had great reviews, so we headed that direction. Upon arriving the restaurant appeared to be closed. The windows were dark, and there was no one around. Jonathan barged ahead and yanked on a door and magically, it opened! There were two locals sitting there that seemed very surprised to see us (apparently, we came in the back entrance). A waiter led us through a maze of hallways to a private dining room straight out of Game of Thrones. There were colored banners, and chairs the size of thrones. What followed was one of the best dining experiences ever. Our waiter, Domgeoj was phenomenal and treated us to several courses of local fare starting with a meat and cheese platter with spicy fig jam, that had horseradish in it, rendered beef tallow to spread on whatever your heart imagined, a creamy cows cheese that was melt-in-your-mouth, pickled things and all the meats. It was beyond delicious. I could have been just fine after nibbling on that but had also ordered the salmon on a bed of carrot puree. I really couldn't eat too much as I was too full and toooooo sleepy. This turned into a three-hour dining experience and we didn't leave until 11 pm. For all of the above and a bottle of wine for three of us, it was only $40 with tip. We all love the Kuna. It was certainly a night to remember. More than anything it was fantastic to connect with other influential people from Chicago tech. We had great, meaningful and helpful conversations about running businesses and board management. I am certain we'll all stay in touch after we return.
One last note about Domgeoj, there was a pumpkin oil that everyone raved about that they used to dip bread into, like olive oil. He told us we could find an oil and pasta vending machine just down the road. He wasn't kidding! There were two vending machines that sold farm fresh eggs, homemade pasta and two different sizes of the pumpkin oil. A few bought small bottles to take home. Definitely the most interesting vending machines we had ever seen!
As I mentioned earlier (in fear), we're all now headed back to Zagreb for the LEAP summit, a much larger, much more well attended conference. There's 9 of us, and all of our luggage in a small white van barreling down the highway. Trisha and I are in the very back and let's just say our little hearts are racing. It's a miracle I've been able to type but at least it keeps my focus off the road. Debra, Trisha and I are all speaking at LEAP at different times sprinkled throughout the day. As a reward for doing another speaking gig we are being treated to a stay at apparently the BEST hotel in Zagreb, The Esplanade. It was once a part of the Orient Express!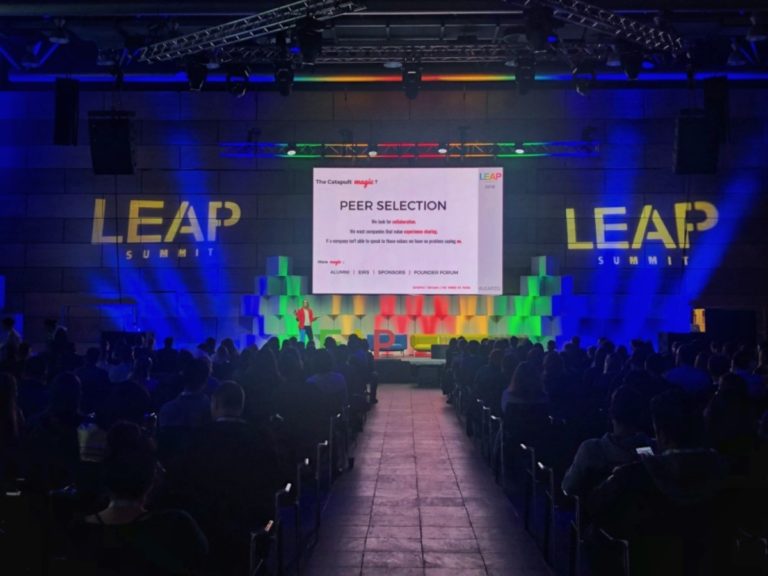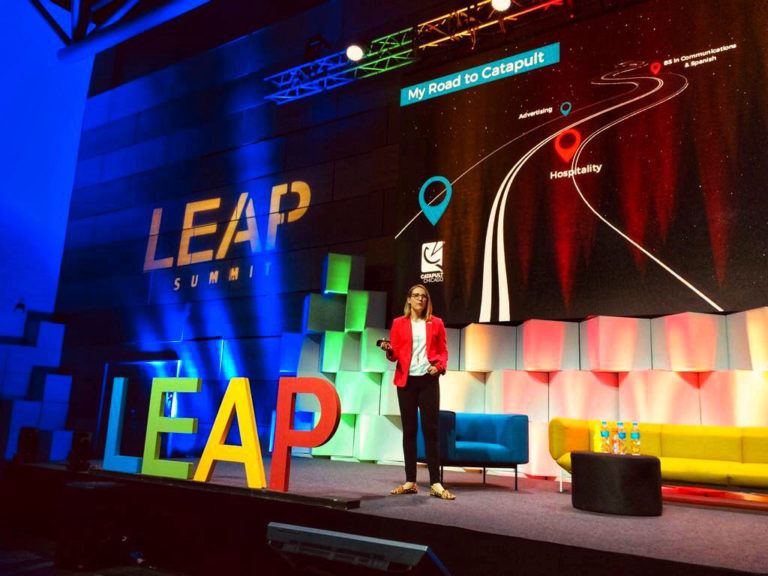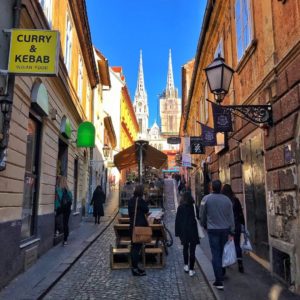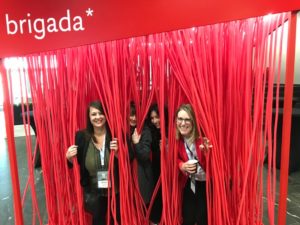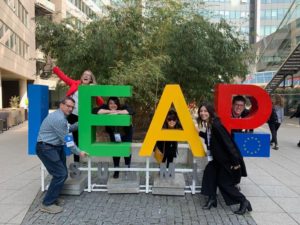 We arrived back in Zagreb in one piece, thank goodness. The organizer of Voogle had hooked some of us up with speaking slots at LEAP Summit. LEAP Summit is a multidisciplinary conference which gathers more than 3,000 participants from 40+ countries – entrepreneurs, young professionals, and leaders - who are changing the world. LEAP Summit brings people from all over the world at one place to learn and network together in order to solve most pressing challenges of our time. You can read more about it here: https://leapsummit.com.
We were dropped off and walked into the conference center and immediately we were impressed. LEAP was much, much bigger and much more organized. The group wandered into the main stage, where I was scheduled to speak, and I almost puked. It was a massive space, holding about 1,000 people. We had all been given different stages to speak on, so some were more intimate with only 100 – 300 people. They were all nicely decorated and all felt very official. This is a very different game from the day before.
The schedule worked out so we were all able to watch each other's presentations and take photos and cheer each other on. Once again, I am so grateful to have met all of the wonderful, intelligent and kind people on this trip. The last few days have honestly felt a bit like summer camp where you make fast friends and feel like you've known them a lifetime.
Debra was up first up on the Ideas Stage and blew it out of the water. She presented on the importance of social and emotional learning and how her company, Design Dance is helping kids in K-12 schools implement these principles. She's incredible. Next up was Trisha on the Digital Stage. She spoke about the overall tech community in Chicago and her knowledge on talent and recruiting. She got some tough questions and handled them like a champ. Finally, it was my turn on the LEAP Stage.
Waiting back stage I was so nervous my hands were shaking. I got my mic all hooked up and the MC introduced me. Once I hit the stage the nerves melted away. It was one of the coolest moments of my life. It all felt very natural and I had so much fun during the entire presentation. I'm proud of myself and our little team for killing it! Chicago made a great impression on the young entrepreneurs of Croatia and we've all had a lot of requests on LinkedIn to keep in touch with them after we return home.
With a huge sigh of relief, we finally checked into the Esplanade. After working in hospitality for 12 years, I know luxury, and this place checked every box. What an amazing place to call home for night! After our farewell dinner as this was our last night as a complete group, we all enjoyed the amenities and the fluffy, comfortable beds. The best thing was the incredible breakfast buffet that we all enjoyed the next morning complete with an almond milk latte!
Debra, Corey, Trisha and I had until 9 pm the next day to kill before the airport so we got to explore the city a bit. We found the central market, the cathedral and the old town shops. It was a lovely way to spend the last few hours with a few of our favorite fellows. We all got to the airport and on to our prop planes that would take us to Sarajevo and Skopje, respectively. Trisha and I landed close to midnight and it was a bit hairy getting into the city center, finding our hotel and getting ourselves settled. We're staying in the Holiday Inn, and while tired, it is very comfortable and has the most comfortable bed I've slept on the whole trip.
Skopje
Skopje, Skopje • Macedonia (FYROM)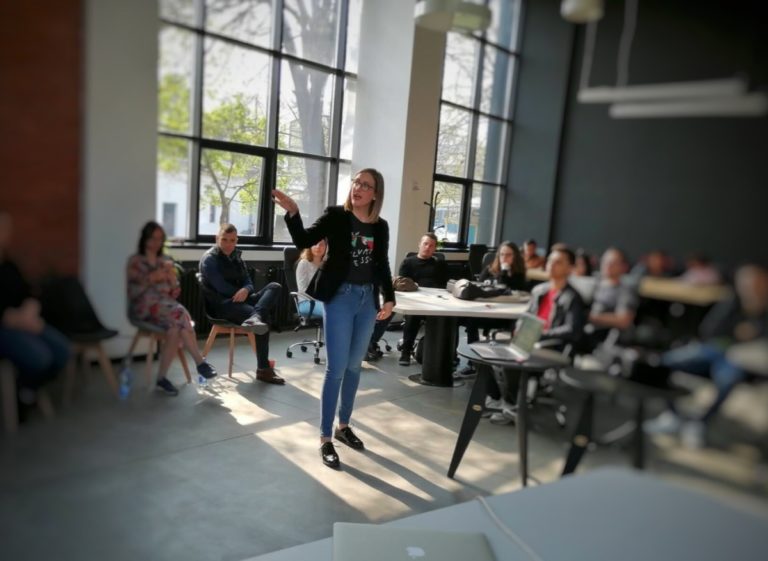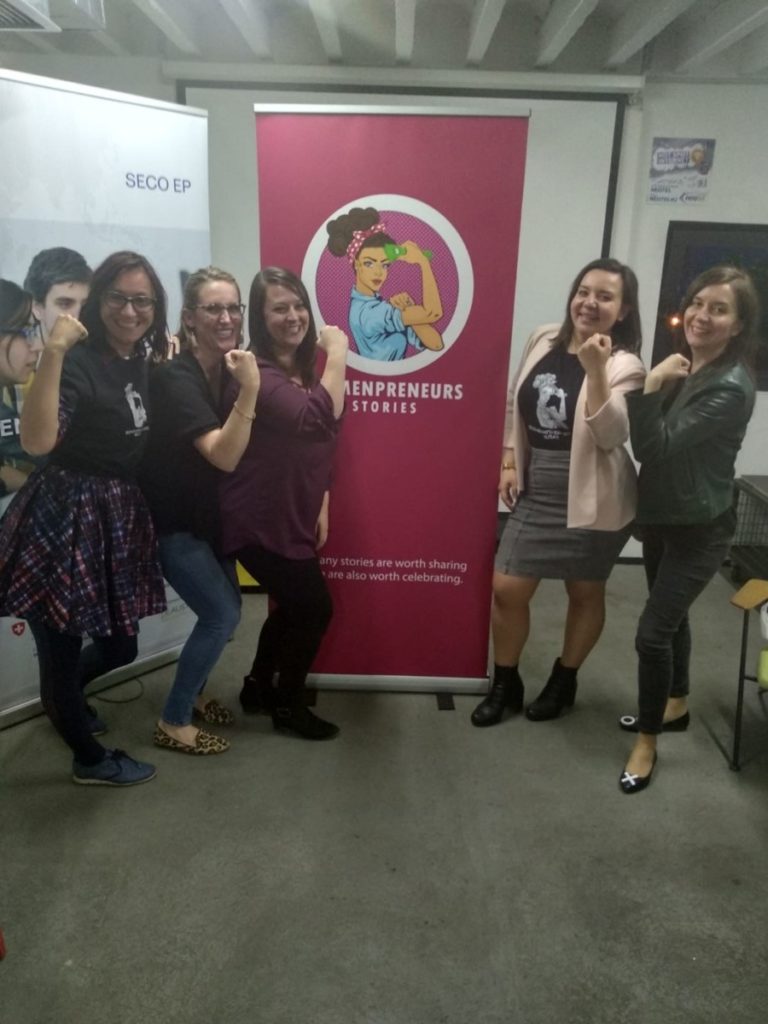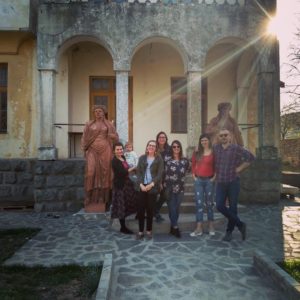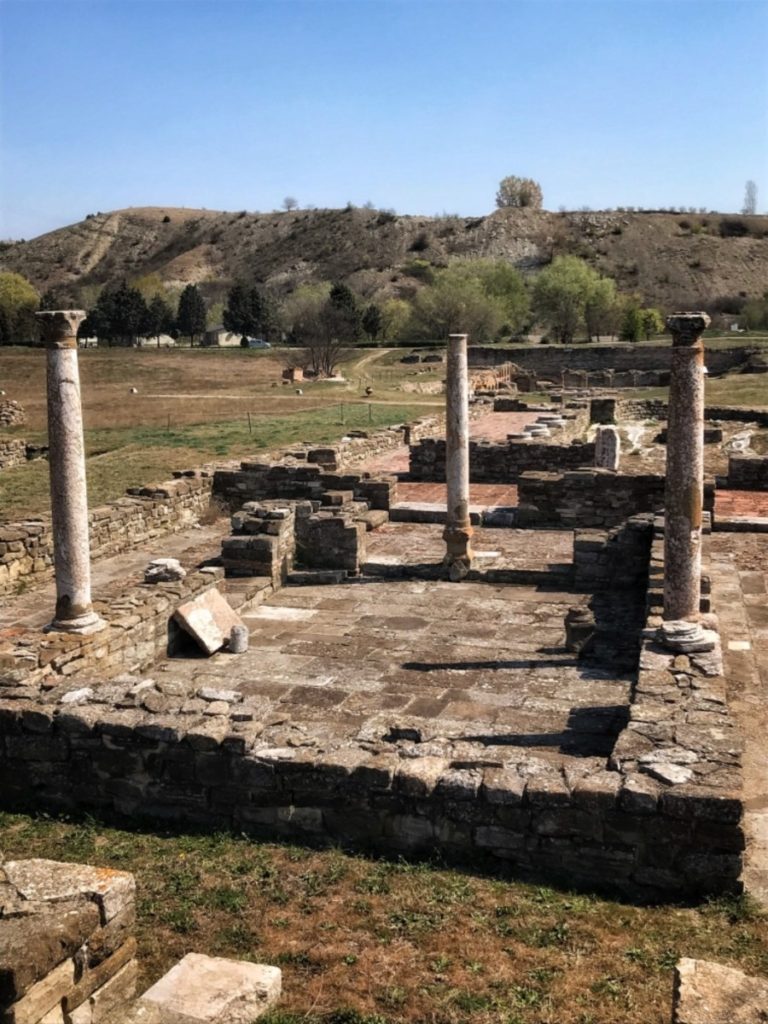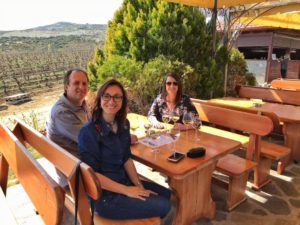 After getting a great night's sleep Trisha and I were better acquainted to our home for the next week, Skopje, Macedonia. Skopje is the capital of the North Republic of Macedonia (this is a brand-new name, forced upon them just in the last month by Greece), in the center of the Balkan Peninsula. Over centuries it has experienced Roman, Byzantine and Ottoman rule. An interesting fact that I was unaware of before we arrived is that it is the birthplace of Mother Teresa!
Trisha's fellow, Natasa, had offered to take us to the wineries on Sunday. We thought we'd be hopping around close to the city but it turned out to be a 1.5 hour journey out to the border between Macedonia and Greece. On the way we stopped by the old city, "Stobi." Stobi is located close to the battlefield where Philip V defeated the Dardanians in 197 BC. Stobi was a trade center for salt and the largest city in the northern part of the roman province Macedonia. The remnants of the city are some of the largest, and best preserved ruins I've seen. There are a variety of mosaics that look like they were created a week ago! Funnily enough when we got out to the ruins, we were surprised to hear someone with an American accent (turns out she was from Atlanta) giving a tour of the ruins. Her narrative was then being translated back to Macedonian for the group… Seemed backwards and so random and we have yet to know why this was happening.
We arrived at our first winery, Popova Kula which means tower of the priest. It was a gorgeous destination, with rolling hills and brush that was reminiscent of the Arizona desert. The sun was shining and it was incredibly peaceful. Next, we visited Queen Maria winery, just down the hill from Popova Kula. There we met a few of Natasa and Zlatko's friends. They treated us to a never ending stream of traditional Macedonian fare: Shopska salad, sheep's cheese, Greek salad, and allllllll the meat. We learned that this traditional fare in a relaxed atmosphere is called a Kafana. Kafana is more of a feeling than a place – somewhere to meet friends and family and enjoy hours of eating, drinking and catching up. I truly have to say that Macedonia has some of the best food I've ever had traveling. It's full of fresh vegetables, mouth watering cheeses and some of the best wine I've tasted. It's been a delight to eat here and I will miss all of the tasty cheese and wine.
The next day our "work week" began. Natasa and Ana had packed a very full schedule of meetings and events for us here. Here's a snapshot of our agenda:
Monday
- Lunch with Jovan Despotovski, Director of the Fund for Innovation and Technology Development
- Womenpreneurs stories and Startup Macedonia at Public Room
Tuesday
- Innofeit with university staff, students' associations, students, companies
- Meeting with CEED Macedonia's staff, discussing business support organizations' management and fundraising
- Meeting with Dijana Despodov, Executive Director of American Chamber of Commerce - AmCham Macedonia
Wednesday
- US Embassy Skopje Reception / meeting
- Macedonian ICT Chamber of Commerce workshop with their IT companies in the growth phase (MASIT)
Thursday
- Workshop with start-ups from CEED Hub's acceleration programs
This doesn't include the numerous lunches, dinners and receptions where we mixed and mingled with our new friends and business peers. It was a very full week, but every meeting was interesting, thoughtful and allowed the exchange of ideas and best practices. My favorite was the meeting with the Embassy. I had never been to an Embassy and it was a great experience. We met with Ben Lingeman and Gazmend Ilazi from the office of public affairs. We had a great conversation about the World Chicago program, but also about the overall status of the tech industry in Skopje and the opportunities within.
I also really enjoyed meeting Anita Nikova with MASIT. She actually has family in Crowne Point, Indiana and was familiar with Chicago's ecosystem. We had a great lunch discussing the differences in culture between our two cities and how to better encourage transparent conversations and experience sharing within startups here in Macedonia.
Finally the workshop with the CEED Hub startups in the acceleration program was so much fun. It was great to be able to have valuable touch points with a few startups with traction. As that's what Catapult focuses on I felt this is where I provided the most value during my time in Macedonia.
On our last day in town, we had the opportunity to tour the office of Piksel, the startup of Natasa's good friend, Filip Ristevski. We met his co-founder Dimitar and had a great hour of sharing ideas on funding and product development. They took us out to a Kafana for our last lunch in Skopje and it did not disappoint. Dimitar is applying for the World Chicago program so we had valuable conversation about the program and what he could expect to get out of it.
Finally the end of our time had come. Ana and Natasa took us out for dinner where we had more wine and great food. They gifted us small books with photos of the architecture of Skopje, which I'll treasure. I'm glad to head home and sleep in my own bed, but I will miss this place and these people. It's been an extremely rewarding trip, full of expanding horizons and illuminating ideas around innovation. It's not something I'll forget and I am so thankful to World Chicago and the State Department for allowing me to be a part of the program.
Adventure Ingenue in Eastern Europe